Welcome to Complete Asbestos Solutions where we specialise in asbestos surveys, training, sampling and bulk analysis. While not every single project requires a comprehensive survey to identify the presence of asbestos within a material, proper laboratory analysis is the only way to confirm its existence and type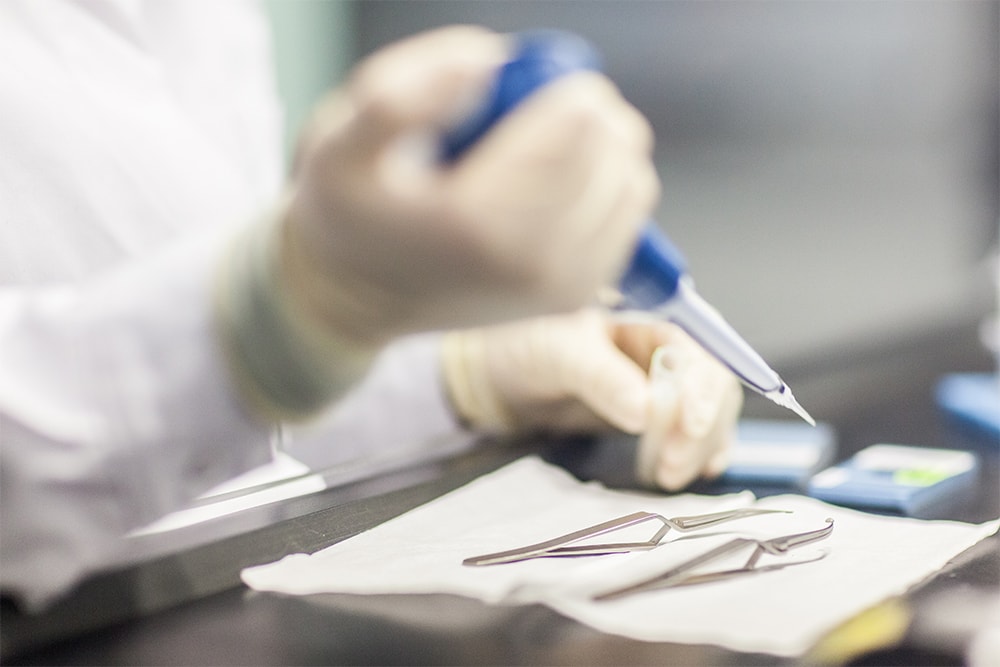 Here at Complete Asbestos Solutions, we offer a unique sampling service that's going to certifiably identify the asbestos within the samples that a client provides for us. This is a hassle-free, streamlined service that many project managers rely on for accurate results with no unnecessarily long waiting times.
Alternatively, our team members can come to the property themselves in order to safely collect a set of samples and then return them to our laboratory for a thorough bulk analysis. The findings will be presented to you in a clearly understandable manner, with professional advice on how to proceed with your project safely.
With Complete Asbestos Solutions handling your project, you can sit back and relax while we check the materials in questions. All of our sampling technicians are trained experts with a great dedication to what they do!
To find out what type of asbestos you are dealing with, take advantage of our asbestos sampling and bulk analysis by calling CAS on 01202 099906
YOUR NEW TEAM OF EXPERTS FOR ASBESTOS SAMPLING AND BULK ANALYSIS
In order to effectively minimise the risk of inadvertent fibre release into the air, professional asbestos sampling and bulk analysis is an absolute must and that's exactly what we specialise in at Complete Asbestos Solutions.
All projects begin with an informal chat – you will be happy to know that our consultations and quotations are completely free of charge. There are no strings attached to this initial service and no obligation to commit at this early stage of the process!
Complete Asbestos Solutions (CAS), your one-stop-shop for all your asbestos-related needs. Our team of experienced professionals is dedicated to providing you with the highest quality services in asbestos identification, management, and removal. No matter how big or small the request, or how complex it may seem, we are here to help. Our commitment is to always provide honest, tailored advice that suits your specific situation, without any unnecessary pressure or misinformation.
At CAS, we understand that dealing with asbestos can be a daunting task. That's why we offer a range of services, including Asbestos Survey Dorset, Asbestos Surveys Surrey, Asbestos Survey Hampshire, Asbestos Surveys Sussex, and Asbestos Surveys Wiltshire. Our team of experts will carefully assess your property to determine the presence of asbestos and guide you through the next steps.
Once the presence of asbestos has been confirmed, our comprehensive management services will help you devise a plan to ensure safety and compliance with all regulations. Our Asbestos Management Hampshire, Asbestos Management Dorset, Asbestos Management Surrey, Asbestos Management Sussex, and Asbestos Management Wiltshire teams work diligently to develop a tailored approach that best fits your needs.
In some cases, asbestos removal may be necessary. Our highly skilled team is equipped to handle the removal process safely and efficiently, ensuring minimal disruption to your property and peace of mind for you.
At Complete Asbestos Solutions, we pride ourselves on our dedication to customer satisfaction and our commitment to providing top-notch services in asbestos management and removal. If you suspect that your property contains asbestos or require assistance managing existing asbestos materials, don't hesitate to contact us. Trust the experts at CAS to provide you with the best possible service and advice for all your asbestos-related concerns.
So, get in touch with Complete Asbestos Solutions at your earliest convenience and tell us a little bit more about your project and situation. We will ask you some questions regarding the location and type of the material that needs to be sampled. Afterwards, you'll be given the option to bring the samples over to us for bulk analysis.
Alternatively, we can offer you a convenient time to come to the premises ourselves to collect them – we will work around your specific schedule and requirements, whatever they may be!
REACH OUT TO COMPLETE ASBESTOS SOLUTIONS
In a lot of cases dealing with asbestos, time is of the essence, so we also offer an emergency attendance service. This will be necessary if you suspect that the material has already been moved or damaged and there's a chance that harmful fibres have been released into the air.
Upon collecting or receiving the samples, we will bring them back to our laboratory for comprehensive analysis by our trained staff members. You can rest assured knowing that we hold all of the qualifications and certifications to provide fully regulation-compliant asbestos sampling and bulk analysis.
All of the services we offer are fully insured for your peace of mind and all of our initial consultations are free of charge. When you decide to go ahead with our sought-after solutions for asbestos sampling and bulk analysis, we will offer you a quotation with no strings attached.
This estimate will be itemised and outline everything that needs to be done, with no hidden surprises at the end.