Asbestos-containing materials (ACMs) can be found in buildings that were constructed before the year 2000. If you're planning on any refurbishment or demolition work in your building, then it is essential for such ACMs to be removed. This process cannot be carried out without the required knowledge or equipment, so it is essential to reach out to a proven team.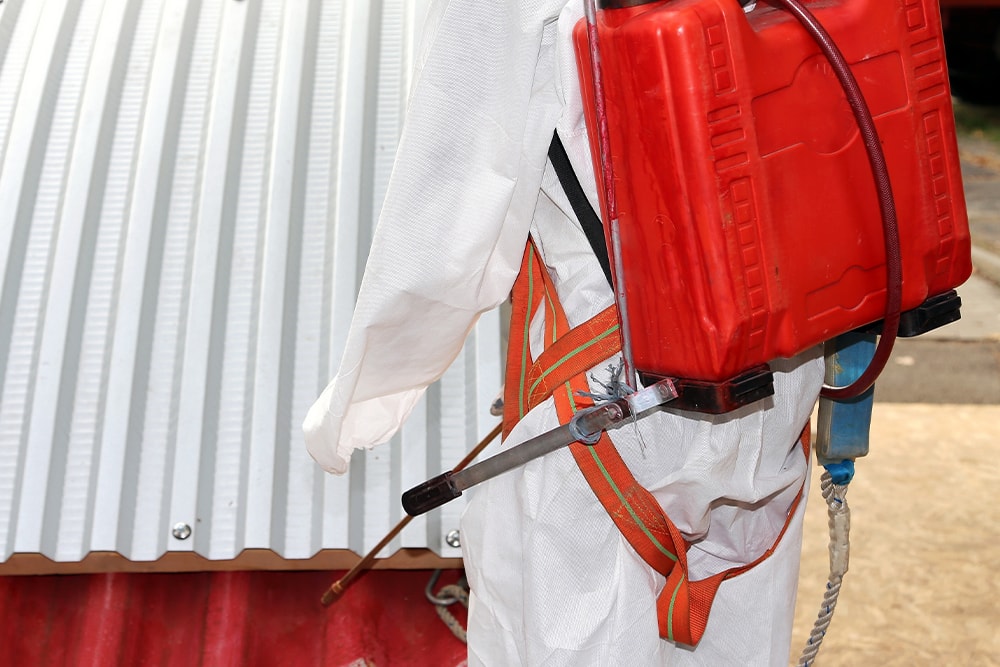 At CAS, we offer a comprehensive asbestos remediation service to property owners that see ACMs removed responsibly. Our team are flexible in their approach and tailor their work to the needs of each customer. The remediation process we deliver is swift and effective, so all clients are sure to be left satisfied with the results. Read on to learn more about our asbestos remediation work and find out what this service involves.
WHAT IS ASBESTOS REMEDIATION?
Asbestos remediation is the process by which ACMs are removed from a property by a professional team. An asbestos survey is usually carried out beforehand; something that is a legal requirement for all properties built before the year 2000. If such materials are identified during a survey, then the next step will involve a professional team entering your building and having them removed. This process is usually destructive, but it is essential for refurbishment and demolition work to continue.
ACMs contain harmful fibres that, when disturbed, are released into the air. This process, however, can pose severe health risks, given that theses fibres are not supposed to be inhaled. It is, therefore, essential for ACMs to be removed in their entirety before they're disrupted. Doing so will keep all personnel in your building safe and will mean that you have complied with government legislation. Failure to remove ACMs when necessary, or have a survey performed, could lead to a prosecution.
Complete Asbestos Solutions (CAS), your one-stop-shop for all your asbestos-related needs. Our team of experienced professionals is dedicated to providing you with the highest quality services in asbestos identification, management, and removal. No matter how big or small the request, or how complex it may seem, we are here to help. Our commitment is to always provide honest, tailored advice that suits your specific situation, without any unnecessary pressure or misinformation.
At CAS, we understand that dealing with asbestos can be a daunting task. That's why we offer a range of services, including Asbestos Survey Dorset, Asbestos Surveys Surrey, Asbestos Survey Hampshire, Asbestos Surveys Sussex, and Asbestos Surveys Wiltshire. Our team of experts will carefully assess your property to determine the presence of asbestos and guide you through the next steps.
Once the presence of asbestos has been confirmed, our comprehensive management services will help you devise a plan to ensure safety and compliance with all regulations. Our Asbestos Management Hampshire, Asbestos Management Dorset, Asbestos Management Surrey, Asbestos Management Sussex, and Asbestos Management Wiltshire teams work diligently to develop a tailored approach that best fits your needs.
In some cases, asbestos removal may be necessary. Our highly skilled team is equipped to handle the removal process safely and efficiently, ensuring minimal disruption to your property and peace of mind for you.
At Complete Asbestos Solutions, we pride ourselves on our dedication to customer satisfaction and our commitment to providing top-notch services in asbestos management and removal. If you suspect that your property contains asbestos or require assistance managing existing asbestos materials, don't hesitate to contact us. Trust the experts at CAS to provide you with the best possible service and advice for all your asbestos-related concerns.
For a team that is certified to handle the removal and disposal of asbestos, give us a call at CAS today on  01202 099906
OUR ASBESTOS REMEDIATION WORK
At CAS, we specialise in asbestos remediation and, as such, can deliver comprehensive service to clients. The first step is to get in touch with our team, who will schedule in a survey to be carried out on your site. During this survey, we will identify all ACMs in your property and produce a comprehensive report for the record. The next step will be to have all these ACMs destroyed and removed in a responsible manner.
While the asbestos remediation process is an intrusive and destructive one, know that our team will work with speed and efficiency at all times so that there is minimal inconvenience. Our staff put safety above all else, so rest assured that they will be wearing all the required protective equipment during their visit. We will make sure that all ACMs are disposed of in the correct manner and will provide you with written proof of the work. We provide our asbestos remediation services in multiple areas including Hampshire & Dorset.