Are you looking for a team of thoroughly trained professionals who can carry out thorough asbestos surveys in Sussex? Look no further, as you've now found the experts at Complete Asbestos Solutions! We're the first-choice team for local property owners who want to identify areas of asbestos. 
If you're interested in our asbestos survey services and would like to take advantage, don't hesitate to reach out to our experts today! You can speak with one of our asbestos survey specialists in Sussex directly by calling us on 01202 099 906, or you can fill out our online contact form, where we'll reply shortly.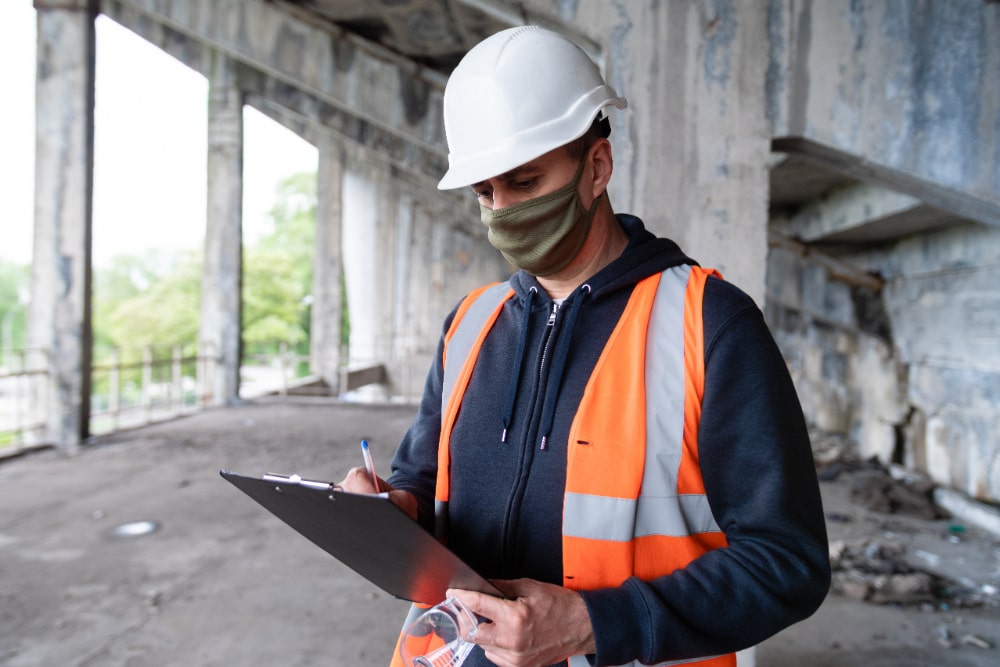 PROFESSIONAL ASBESTOS SURVEYS SUSSEX RESIDENTS CAN TRUST
At Complete Asbestos Solutions, we are committed to providing top-notch asbestos surveying services to property owners in Sussex. As a team of experienced asbestos surveyors, we have the knowledge and expertise required to conduct comprehensive surveys, ensuring that every area of asbestos in your building is identified. Our services are tailored to meet the unique needs of each client, and we work closely with all of our customers to make sure that they are satisfied with the results.
In addition to our asbestos surveying services, we also offer testing for asbestos, as well as detailed asbestos reports that provide our clients with all the necessary information they need to make informed decisions about their property. Our goal is to exceed your expectations, and our staff will go the extra mile to ensure that your experience with us is a positive one. Contact us today to learn more about our asbestos surveying services in Sussex.
With a bespoke survey from Complete Asbestos Solutions, you can take control of your asbestos issues.
Get the process started by calling 01202 099 906
WHY YOU MAY NEED ASBESTOS TESTING SURVEYORS
Asbestos is a material that was widely used in building construction before the year 2000, and it can still be found in many properties. However, asbestos can pose a serious health risk to individuals if it is disturbed or damaged, as the resulting fibres can cause breathing problems and other health issues.
If you're planning on having any construction or refurbishment work carried out, or if you're planning on demolishing part of your Sussex property, it is important to have an asbestos survey completed. This process will identify any areas of your property where asbestos is present and needs to be removed.
Our team at Complete Asbestos Solutions provides comprehensive Asbestos Services, including Demolition Surveys and Testing Asbestos, to ensure that you and your property are safe and compliant with Asbestos Regulations. We also offer Asbestos Waste and Removal Asbestos services to safely and efficiently remove any identified asbestos materials from your property. Trust our experienced team to keep you and your property safe from the hazards of asbestos.
BENEFITS OF WORKING WITH A PROFESSIONAL IN SUSSEX
When you work with a team of professionals for an asbestos survey, you can rest assured that you'll be dealing with experts that have an in-depth understanding of asbestos management. When having an asbestos survey carried out, it is vital to have sufficient equipment, as well as a comprehensive understanding of safety requirements. When working with our asbestos professionals in Sussex, you can rest assured knowing that you and your staff will be safe as the surveys are carried out.
TYPES OF ASBESTOS SURVEYS WE OFFER / ASBESTOS SERVICES
We at Complete Asbestos Solutions understand that all property owners will have different requirements when it comes to asbestos surveys in Sussex. Thanks to our versatility, we can cater to the needs of all property owners by offering a variety of useful asbestos surveys. When you reach out to us for an asbestos survey, our staff will consult with you to determine what type of surveys would be best for your needs. Clients in Sussex who hire our team can take advantage of the following: 
Asbestos Management Survey
Our asbestos management survey involves a comprehensive sweep of the target property to identify areas of asbestos. Our Sussex team will be thorough in their approach, as they make sure that every trace of asbestos is identified and reported to you. From Brighton to Crawley and beyond, we can carry out asbestos management surveys throughout the Sussex area.
Asbestos Refurbishment and Demolition Survey
If you are planning on having refurbishment or demolition survey work carried out on your property, our team will carry out an inspection on the areas that you are planning to have worked on. It's important to identify all traces of asbestos before you begin any refurbishment or demolition survey work. 
Re-Inspection Survey
If you have already had an asbestos survey carried out in the past, our team can arrange to have a re-inspection survey performed. This survey will allow you to better monitor the asbestos in your building and keep up-to-date records on its condition. Our team in Sussex will make sure that the process of your re-inspection survey is quick and straightforward.
ASBESTOS MANAGEMENT STEPS AFTER THE ASBESTOS SURVEY
After your asbestos survey has been carried out, our team will determine whether action needs to be taken depending on how much asbestos has been found. Fortunately for Sussex clients, we offer complete asbestos management services. You can depend on our team to deal with any and all asbestos that is found on your property promptly and in an effective manner. Sussex property owners can take advantage of the following when they choose us for asbestos management services: 
ASBESTOS REMOVAL SERVICES
If asbestos is identified on your Sussex site, full asbestos removal services will be required. Our team will arrive at your site on a pre-arranged date and get to work on removing all traces of asbestos from the property. It's important to note that asbestos removal is a destructive process, but our team will operate with the utmost care when working on your building. Once the removal process is complete, you can expect our staff to carry out comprehensive checks before cleaning their work areas thoroughly.
ASBESTOS SAMPLING AND BULK ANALYSIS
It's often important to have any asbestos that is located on your property lab-tested to determine its hazardousness. We offer asbestos sampling and bulk analysis services, which involve our staff taking samples of asbestos from a property and sending them back to our lab for testing. After these asbestos samples have been analysed, we will provide you with all the necessary documentation and go through our findings if required. 
MORE THAN JUST ASBESTOS MANAGEMENT
At Complete Asbestos Solutions, it has always been our aim to cater to the needs of as many property owners in Sussex as possible. Our staff realises that not all clients require a contractor for asbestos management services. As such, we've continued to expand our selection of services so that we can also help with a range of other work. Thanks to the skill and versatility of our staff, we're able to deliver the same high standard of service no matter what job you require us to carry out. 
PAT testing is highly recommended for property owners that have portable appliances in their building. Making sure that these appliances are in the best possible condition will help you to reduce the chances of accidents occurring and will allow you to keep your business operating smoothly. Our Sussex team can carry out PAT testing swiftly and effectively, providing clients with document proof. 
To ensure that your property does not pose a fire safety risk to the people in the building, it's essential that you have a fire risk assessment carried out. We can arrange a convenient date upon which to visit your property and have a comprehensive fire risk assessment completed. Our team will even make recommendations for safety improvements. 
CORONAVIRUS DECONTAMINATION CLEANING
After the outbreak of COVID-19, people have found it more important than ever to correctly sanitise and clean their property. If you need professional decontamination and cleaning services carried out, don't hesitate to contact our experts. We have access to a wide range of high-quality cleaning equipment, all of which is used professionally by our thoroughly trained and experienced staff.
At Complete Asbestos Solutions, we have built up an excellent reputation thanks to the many years of successful service that we've delivered to clients in Sussex. We prioritise delivering first-class customer service to all clients.
Property owners have continued to choose our team for asbestos survey and removal solutions, thanks to our long history of success. Sussex property owners have reaped the benefits of our services for many years.
We have completed many successful asbestos surveys in Chichester and Worthing. Our team has also provided asbestos management solutions to commercial clients based in Crawley and Brighton.
Our impressive track record sets us apart from similar contractors in Sussex that are available for asbestos surveys. Sussex clients can depend on the skill, knowledge, and experience of our team.
So, would you like to get started with the number one team in Sussex for asbestos surveys? Then reach out to us at Complete Asbestos Solutions today! Our experts will be more than willing to take you through our asbestos survey options and provide you with all the requested information.
If you'd prefer to speak with one of our Sussex-based asbestos survey specialists directly, you can do so by calling us now on 01202 099 906. Alternatively, if you're unable to reach us during business hours, email your queries to [email protected] or fill out our online contact form, and we'll reply as soon as possible.